Fenix NEO features
Newest version (2023.08)
100% convection heating
Fully insulated air path
Comfortable to hold and easy to use
Zirconium mouthpiece
Large titanium heating chamber
Precise temperature control (120°C to 210°C)
Short heat-up time (30 seconds)
Large OLED display
Adjustable session timer
Powerful battery (3000 mAh)
Fast charging with USB-C
Who is the Fenix NEO for?
The Fenix NEO is perfect for those who are looking for a convection-heated and reliable dry herb vaporizer. Its wide temperature range, adjustable session time, and degree-accurate temperature control make it a great choice for those who want full control over the heating process.
Pure vapour with convection heating
With 100% convection heating and an insulated air duct, the Fenix NEO vaporizer offers a highly efficient and pure method of vaporizing dry herbs. Convection heating means that hot air is lead through the chamber which causes the herbs to heat and produce flavourful vapour without any combustion.
Comfortable to hold and easy to use
The Fenix NEO has a sleek and ergonomic design that makes it easy to use and comfortable to hold. Its rubber-coated outer provides a pleasant and cool touch, while its compact size allows it to fit comfortably in your hand. It also features a magnetic mouthpiece of zirconium that can both be removed and folded in for convenient storage, ensuring that it stays clean and protected when not in use.
In terms of usability, the Fenix NEO is designed to be simple and intuitive, with just three buttons that are easy to use thanks to the large OLED display. The device also features haptic feedback, which means it vibrates when you turn it on or off, or when it reaches the desired temperature.
Large titanium chamber
The chamber of the Fenix NEO is made of titanium, a material known for its strength and durability. The chamber is 12 mm in height and diameter so you can fit up to 0.25 grams of herbs in it, which is above average for a portable vape.
Full temperature control and fast heating
Temperature control is crucial to get the most out of your herbs, and the Fenix NEO excels in this area as the temperature can be easily adjusted with a single degree accuracy between 120°C to 210°. This means you can start slow at low temperatures to enjoy the flavour, and then raise the temperature to fully extract your herbs later on.
You don't have to wait long for the Fenix NEO to heat up and it's ready to heat your herbs in under 30 seconds. If you want to get even thicker vapour, we recommended waiting a bit longer after the vibration to make sure the heat will be optimal.
Large OLED display
The Fenix NEO vaporizer is equipped with a large, OLED display that makes it easy to adjust the temperature, set the timer, and check the battery level. The upper area of the display shows the set and actual temperature, while the lower area displays the session timer with the set and actual time as well as the battery level.
Adjustable session timer
The adjustable session timer on the Fenix NEO allows users to control the time with precision by setting the session time between 3-7 minutes. Once the session timer runs out, the unit will automatically shut off to ensure no battery is being wasted. If you need more time, you can easily refresh the timer.
Powerful battery with USB-C charging
The Fenix NEO boasts a powerful built-in 3000 mAh battery, which is more than enough for several extended vaping sessions. The battery is rechargeable through USB-C, which enables fast charging and ensures that it can be charged from many different power sources.
Removable stirring tool
At the bottom of the Fenix NEO there is a removable stirring tool that makes it easy to mix the herbs in the chamber wherever you are. The stirring tool can also effectively be used to clean the chamber of vaped herbs and residue.
Warranty
All Fenix NEO vaporizers sold by MagicVaporizers, an authorised distributor of Fenix, are completely authentic and backed by a 2-year warranty.
User Manual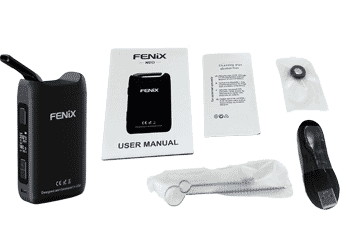 In the Box
Fenix NEO vaporizer
Silicone seal with screen
USB-C cable
Cleaning brushes (2)
Cleaning wipes (2)
Instruction manual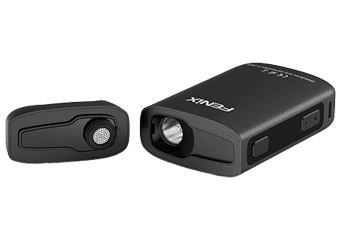 Specifications
More Information

| | |
| --- | --- |
| Size: | 5.8 × 2.8 × 10.4 cm |
| Weight: | 216 g |
| Heating: | Convection |
| Heat-up time: | 30 seconds |
| Power source: | Battery (3000 mAh) |
| Temperature: | 120°C to 210°C |
| Manufacturer: | Fenix |
| Warranty: | 2 years |
| Country of manufacture: | China |
Write your own review about Fenix NEO