Features
Newest version! (2023.11)
Lightweight & compact
Full temperature control
Strong battery life
USB chargeable
Fast heating time
Advanced airflow
Includes water pipe adapter
Easy to clean
Who is the Boundless CFC 2.0 for?
The Boundless CFC 2.0 is the improved version of the Boundless CFC with plenty of new upgrades and improved features. If you're seeking a reliable, discreet vape that offers the perfect balance of portability with impressive performance you should consider the Boundless CFC 2.0. It's pocket-sized without compromising on high quality vapor or advanced technology which means you can enjoy tasteful vapour comfortably both at home and outside.
Small & Discreet 
The Boundless CFC 2.0 is hailed for its compact ability to fit into virtually any pocket and make for a brilliant choice for vaping outside. It's so slim that you can hide in the palm of your hand and which opens up a lot more possibilities for stealthy vaping.
The design of the Boundless CFC 2.0 has also been significantly improved over its predecessor. The reinforced mouthpiece and hardened outer shell make for maximum durability. This vape has been built to stand the test of time yet maintain a sleek, compact appearance.
Impressive Battery Life 
The Boundless CFC 2.0 is minimal, so it makes sense to assume its battery wouldn't be particularly good. But this couldn't be further from the truth, as this vape is able to run up to 10 sessions on a full battery. It takes around 3 hours to fully charge the battery and as it's chargeable via USB, you can successfully charge it anywhere with a power bank!
Full Temperature Control & Fast Heating Time 
You aren't limited to pre-set temperatures with the Boundless CFC 2.0 as you can select any temperature between 60°C and 230°C. It heats up fully in just 30 seconds guaranteeing you never to wait for long for your session to begin. Better still, its handy digital display provides accurate temperature readings and battery status whilst in use.
Improved Airflow
The Boundless CFC 2.0 has greatly improved airflow compared to its predecessor which ensures outstandingly thick and flavourful vapour every time. Its mouthpiece is fully heat-resistant to provide maximum comfort, and the smoothness of the vapour produced is very impressive.
Low Maintenance
Due to the simplistic design of the Boundless CFC 2.0, you'll never find it hard to keep it clean. In fact, the only components requiring cleaning are the digital display screen, mouthpiece and inner oven, all of which are simple to wipe and keep clean between sessions.
Warranty
All Boundless CFC 2.0 vaporizers sold by MagicVaporizers, an authorised distributor of Boundless, are completely authentic and backed by a 3-year warranty.
User Manual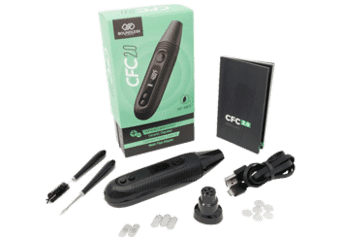 In the Box
Boundless CFC 2.0 vaporizer
Water pipe adapter
Stirring tool
Cleaning brush
USB charger cable
Instruction manual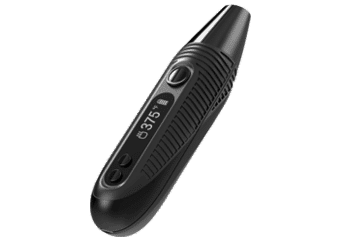 Specifications
More Information

| | |
| --- | --- |
| Size: | 13.0 × 3.3 × 3.3 cm |
| Weight: | 227 g |
| Heating: | Conduction |
| Heat-up time: | 30 seconds |
| Power source: | Battery (1200 mAh) |
| Temperature: | 60°C to 230°C |
| Manufacturer: | Boundless |
| Warranty: | 3 years |
| Country of manufacture: | China |
Write your own review about Boundless CFC 2.0