AirVape Legacy Features
Newest version! (2022.09)
15 seconds heat-up time
Wireless charging
Removable battery
90 minutes battery time
Vegan leather and hemp textile case
Adjustable heating chamber
Removable airpath
Microdosing basket
Haptic feedback
Who is the AirVape Legacy for?
This premium vaporizer excels at everything from portability to eco-friendliness and considering it's capable of vaporizing both dry herbs and concentrates it's versatile enough that even the most experienced vaporizer enthusiast will enjoy it.
The AirVape Legacy is a bit more expensive than the other vapes from AirVape, but it makes up for it by having a higher quality construction which includes a golden heating chamber, a concentrate pod and a microdosing basket. If you are someone who enjoys vaping outside of your home you will appreciate the compact size and quick heating which makes it perfect for quick sessions.
Design
The AirVape Legacy is one of the most pocket-friendly vapes available on the market (measuring 11,9 x 5,2 x 2,1 cm and weighing 91 grams), but despite its minimal size it still includes many premium features such as a gold-plated heating chamber, a removable airpath, and a replaceable battery.
AirVape has also taken a conscious move by using eco-friendly hemp textile and vegan leather as the casing which both improves the grip and allows you to hold the vape comfortably without it getting too hot.
Removable Battery
The most improved part of the AirVape Legacy compared to the previous AirVape models is the removable 3000 mAh battery. This battery is capable of almost 90 minutes of continuous use on a full charge, and as long as you have an extra battery ready to replace it with you can keep your sessions going indefinitely.
Wireless Charging
The AirVape Legacy is the first vape to offer wireless charging, which is super convenient if you don't mind the slightly slower charging pace. Simply place the vape on any Qi-certified charging pad and it will automatically start to charge up the battery. If you are in a hurry to charge the battery you can always use the included Fast-Charging USB-C charging cable.
Efficient heating
In order to get the maximum flavour and ensure that your herbs or concentrates are vaped evenly and thoroughly the AirVape Legacy utilizes convection heating. The heated air will enter the oven, vaporize the contents and pass through the tasty vapour to an air-path in glass before reaching the ceramic mouthpiece which cools the vapour while you're drawing it in. As a bonus feature, you can also remove the air-path for easy cleaning.
Fast Heat-Up Time
With the AirVape Legacy, you never have to wait long to begin your session as it heats up in just 15 seconds. It's perfect for stealthy use, or when you are in a rush. To preserve the battery, it also has a shut-off sensor that activates when the vape is not being used for 60 seconds.
Easy to Use
With three clicks on the power button, the AirVape Legacy starts up and begins heating to your desired temperature, from 93 to 240°C, wait approximately 15 seconds and you will feel a small vibration that the vape is now ready to be used. To change the temperature simply press the up- or down button until you reach your desired temperature.
Perfect for microdosing
If you enjoy microdosing you will appreciate the AirVape Legacy's gold-plated microdosing basket. The basket reduces the chamber size significantly and allows you to vape tiny amounts of material quickly and efficiently. The gold plating is perfect for even heat distribution and it's also remarkably easy to clean. 
Warranty
The AirVape Legacy comes with a 2-year warranty by MagicVaporizers and an additional limited lifetime warranty through the manufacturer.
User Manual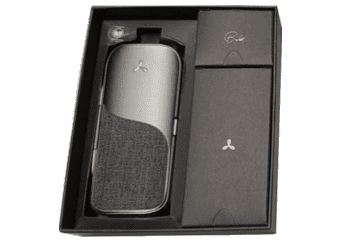 In the Box
AirVape Legacy vaporizer
Battery
Wax pad
Gold plated microdosing basket
USB-C charger cable
Glass air path
Cleaning tool
Loading tool
Screens
Instruction manual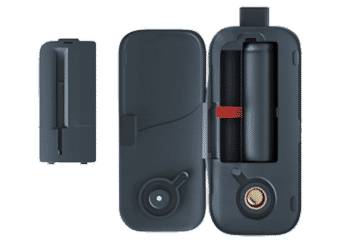 Specifications
More Information

| | |
| --- | --- |
| Size: | 11,9 × 5,2 × 2,1 cm |
| Weight: | 247 g |
| Heating: | Convection |
| Heat-up time: | 15 seconds |
| Power source: | Battery (3000 mAh) |
| Temperature: | 93 to 240°C |
| Manufacturer: | AirVape |
| Warranty: | 2 years+ |
| Country of manufacture: | China |
Write your own review about AirVape Legacy